Building a Rural Home? Here's What to Look for in a Modular Design
Jan 13
Whether you are relocating to the country, or building your dream rural retreat on your existing property, there are certain characteristics and features that will elevate your new modular home to something special.
From matching the style to your surrounds, to the essential design features that will enhance your enjoyment of the relaxed country lifestyle, ticking the right boxes during the design phase will ensure your rural home is the perfect fit for many years to come.
So read on to discover our top suggestions for designing and building a rural modular home.
Wide frontage for character and style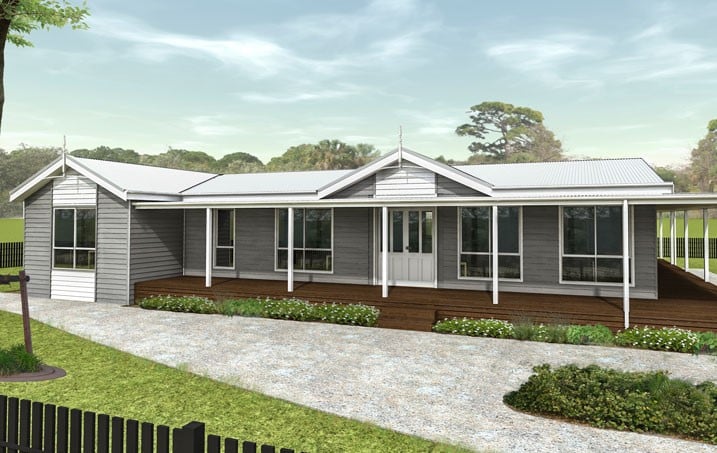 If you're building on acreage or a large town block, a design with a wide frontage creates a warm and welcoming entrance that looks right at home in the country. In contrast to the narrow blocks of urban or city environments, rural homes often have the opportunity to make a statement with a design that showcases its traditional style and rural street appeal in a big way.
The good news is, that you don't necessarily need a large home to achieve this. For example, the Ironbark 1 is a compact three-bedroom home that has a wide frontage which includes a traditional façade and verandah. Or if you are looking for a larger home, the Kingsford and Marysville are sure to impress.
Plenty of windows to take in the views
One of the best things about living in the country is the picturesque surrounds, so make sure your chosen design includes plenty of windows to capture the views. Large picture windows work well to frame the view and bring the outdoors in, but be sure to mix these up with opeable windows so you can let the fresh air in too.
It's also important to position your home in the best way to maximise your enjoyment of the surrounds, and our team will provide advice on orientation during the design phase. One way you can take things to another level, is to incorporate bi-fold doors, creating a seamless flow between inside and out, as seen in the living space of the stunning Buxton project.
A verandah completes the look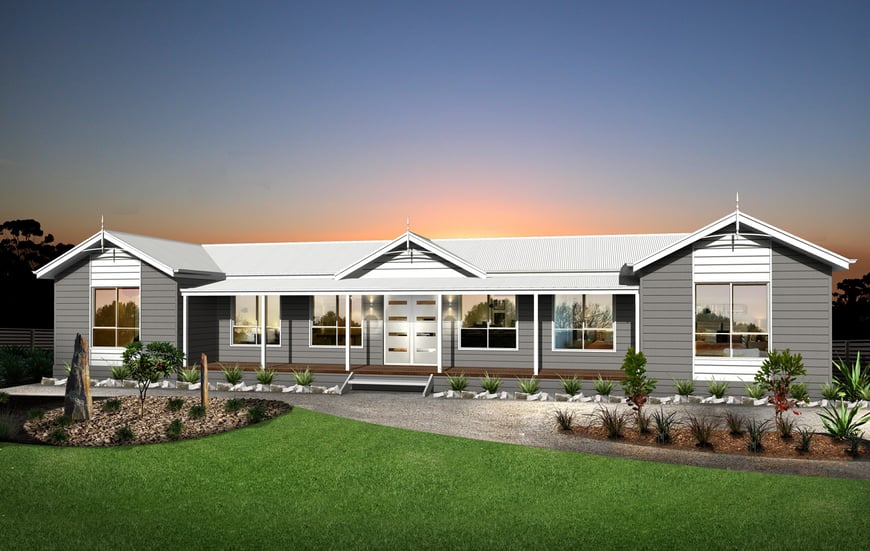 If you want to create an authentic country look and feel, a verandah is a must. A traditional wraparound verandah provides a valuable undercover outdoor space to enjoy the serenity, as well as somewhere to remove your muddy boots.
The gable or Dutch gable façade are ideal to achieve this look. You can opt for the full wraparound verandah, an optional upgrade available with our Homestead 2 design, or go for a verandah that spans half the house and includes a large alfresco deck, an optional upgrade available on our Kingsford design. You can also customise your deck or verandah to suit any of our floorplan options.
Country style doesn't have to be traditional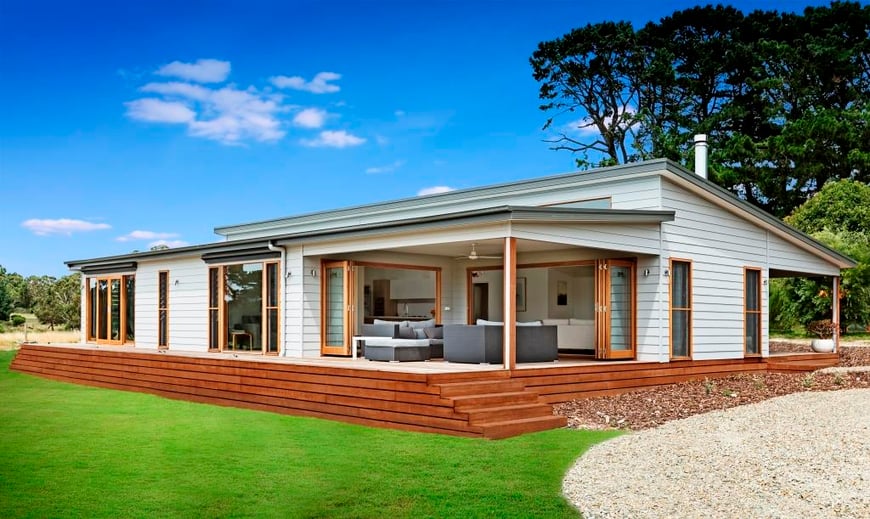 Of course, if you prefer the look of a modern or contemporary design, there are some fantastic options available that blend perfectly with the natural surrounds of a bush, mountain or farmland backdrop.
For those downsizing or looking for a smaller home, the Suburban is a great option, as seen in our Marysville project. If you're after a larger home the customised version of our Sorrento design created for the Somerville project is a wonderful example of a spacious, stylish lifestyle home that ticks every box.
Rural living = endless possibilities
If you're building your dream rural home, there are endless design possibilities available to you to create a home that you love living in. To narrow it down and get started, think about matching a home to your tastes, surrounds and lifestyle, and then incorporating the features that will enhance the enjoyment of country living.
For ideas and inspiration, check out our projects page or visit our display homes for a closer look.
Over to you
Do you have a question about an upcoming rural project? Or a tip on country living to share with others? We'd love to hear it! Post a comment below or get in touch with our team on 03 5145 7110.